I worked at a bookstore for 3 years, 3 months and (I believe) 4 days. It's where I met AC, my flower girls (their stepmom was my manager) and some of the best friends I've ever met. I talked to my lovely, beautiful, sweet Lucy B today and it made me so happy to talk to her, but also cry when I hung up cause I miss her so much. There are rumors she and two of my other lovely friends might be making a road trip to see us this summer, so fingers crossed!
Working in a bookstore gets you super familiar with a bunch of difference genres real fast. Not going to lie, it's pretty impressive to be able to recommend a book to someone even if it's in a genre I completely do NOT read (romance, science fiction). Fun party trick. Anyway, some genres I liked more than others- I love sociology but don't like biology. My favorite customer in the whole world (a doctor at University of Kentucky's hospital) always made recommendations that were far and away too smart for me, but it definitely opened my eyes to what I might aspire to comprehend one day.
Anyway, my least favorite genre of books to help people find was true crime. I hated, loathed looking for books in that section, not only because it was completely disorganized but because I hate everything it stood for. I feel similarly to court TV, any coverage of any terrible crimes... anything that lends huge amounts of attention to truly heinous, unspeakable crimes. The Petit murder trial is here in New Haven and I can't seem to be able to avoid it because it's EVERYWHERE. I see the news vans at the courthouse, the reporters, the cameras, all trying desperately to get an interview with or a picture of this man whose life has been absolutely destroyed.
Why would you read something like this? Why would you read something so gruesome, so terrible, so horrifying abject? Not to mention true. Not only is it a disgusting crime, but it's exploiting someone's personal tragedy. Did the family give permission for their murdered loved one's story to be splashed across several hundred pages? Did they get money from the sale of the book to fund years of therapy?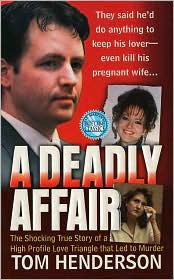 Make up all the fiction you want. Create fictional crimes and murders and whatever, but leave real people out of it. It makes me absolutely sick with grief that these families where something has gone terribly wrong, like the Army captain's wife that killed her two teenagers, are all of a sudden in the media spotlight, asked to make statements when their lives have completely and totally fallen apart. We were sitting at lunch with AC's parents the other day when they had a huge segment about the Caylee Anthony case on the TV at the pizza place. I don't want to know, don't need to know, about this little girls disappearance (murder?). It's disgusting, heartbreaking, and while it's good to be aware of what's going on in the world, there's a fine line between news and exploitation.

Can you explain this to me? Give me a reason why this whole crime obsession exists? And more importantly, would you want your family tragedy written about like this and if not, how do you justify reading about someone else's?